H
ere is the post I had been planning to put up for days.. Sorry for the delay, lovelies.
The day before yesterday, I adopted the cutest puppy. His name is Max, he's black, and he's half cocker spaniel and half labrador retriever. He honestly is the most gorgeous dog I have ever seen. He is still in the process of getting familiarized with my fish and especially my cat. But all will be well in due time. I will post photos as soon as my expired fuji experia film comes in the mail with my lomo london notebook.
Leading a sedentary summer has induced chronic hunger. I am constantly stuffing myself. So here is an ode to my favorite restaurants and haunts in and around Los Angeles, in case you ever get the urge to delve in gastronomic delights. My mother is a chef and professed slave to food so I am somewhat seasoned in finding great food here. So let us commence.
Situated in the heart of Los Angeles on Melrose Avenue, Lucuqes is arguably one of the best restaurants around. It's one of my favorites, and everyone loved it when I held my Sweet Sixteen birthday party there. The beignets (french donuts) here are a must, served with ice cream, if they are available at the time. The sunday suppers here are also marvelous.

AMANDINE
12225 Wilshire Blvd
Los Angeles, CA 90025-1105
http://losangeles.citysearch.com/profile/38547517
I am proud to say I have been a satisfied patron of Amandine Patisserie/Cafe since I was 7 years old. Amadine is a local favorite for cakes and other bakery items, although their omelettes and sandwiches are delightful as well. I turn to Amandine almost exclusively for my cake needs (they made my 16th birthday cake with lots of chocolate mousse and such) and they never disappoint. Stop by for a casual cup of coffee and slice of tart.
LE PAIN QUOTIDIEN
many locations, including los angeles, manhattan beach, nyc... check website for locations
http://www.lepainquotidien.com
A meal in the rustic La Pain Quotidien will hit the spot anytime of day. Breakfast, lunch, dinner, you name it. I have been going here for years and just love the little sandwiches (my favorite is the dinde rotie) and the mint lemonade. I've been to three locations and love all of them (except the Los Angeles one has terrible parking that borders on insanity).
TRA DI NOI
@ Malibu Country Mart
3835 Cross Creek Road, Malibu, CA
http://www.malibucountrymart.com/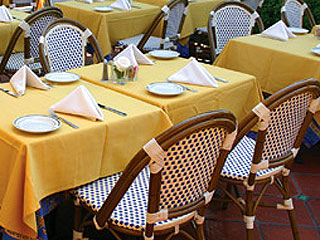 Nestled in beautiful Malibu inside the lovely outdoor mart (which has stores like Shabby Chic, Chrome Hearts, Madison, Lisa Kline, Ralph Lauren, Ron Herman...), Tra di Noi is the place to go for superb Italian cooking and celebrity sightings (I've seen Lindsay Lohan and Will Ferrell). Although you could choose to eat inside or on their outdoor patio (which will many times feature a live cellist or violinist), most people including myself order to go and eat at one of the many picnic tables in the middle of the mart. The pizzas, especially the one with eggplants, are great, as well as the pastas. They also offer wine to go, which is complete Malibu chic.
3 SQUARE CAFE + BAKERY
1121 Abbot Kinney
Venice, CA 90291
http://www.rockenwagner.com/cafe.html
Located on one of the more interesting streets in Los Angeles, 3 Square Cafe + Bakery is a charm. Although the lines are very long, the food is worth the wait. The avocado fries and the calamari fritto misto are in my opinion the best dishes. While waiting, you can head next door to one of the best design stores in town,
A+R
. Across the street is also the amazing patisserie/tea house
Jian
and the clothing store Salt (which carries Hache, Opening Ceremony, Issey Miyake). If you don't have the time to wait, you can take baked goods to go in their bakery area, which is right next door to the restaurant.
There are a lot more, but I will write about them later I guess. And next time I'll include places in Northern California, San Diego and Las Vegas!
Looking at the F/W prete-a-porter collections, I think this season so far has been very hit or miss. Take for example this look from A.F. Vandevorst:
I like the ensemble, as well as the hairstyle (very Alexander McQueen circa s/s 08). It's very put together and structured, something you would expect from the minimalist duo. However, a look at another ensemble from the same collection proves to be the exact opposite:
This look isn't very flattering. The layering is confusing and the different contours, silhouettes, textures, and patterns really clash in an unfavorable light.
Through looking at many of the looks from other collections, I'm seeing looks I either love or loathe. What are some of your favorite loves/hates in the F/W 2008 collections?